Current Special Offer
Email: enquiries@adeltd.co.uk
About Us
For nearly 20 years Advanced Ltd. have supplied diesel generators for stand by operation, emergency backup power and prime power operation. With a large stock of diesel generators from 11 to 3300kVA, we specialise in the acoustic treatment and containerisation of medium to high power silenced and weatherproof generator systems.
Located in the centre of the UK, our premises in West Yorkshire accommodate our head office, manufacturing & fabrication facility, warehouse and test area.
Head Office
In 2003 due to a rapid expansion of generator sales and manufacturing, all operations transferred to our larger site from South to West Yorkshire. Situated at Head Office are:
• Large Team of Sales Managers & Sales Engineers
• The Project Management Department
• 3D/2D CAD/CAM Engineering Department
• Service & Maintenance Desk
• Marketing & Design Department
• The IT & Network Management Centre
• Customer Relations & Reception Area
• Large Conferencing Facility & Meeting Rooms
Manufacturing Facility
Measured at roughly 90,000 square feet, our manufacturing and engineering facility houses a large cutting and press area with 7 press brakes operating at any one time.
Next to this are fourteen cutting, welding and construction bays, each large enough for up to two 12m (40') ISO containers to be structurally modified. Most of the fabrication takes place in the bay areas including all acoustic container and canopy work.
Adjacent to the fabrication area are two spray areas where our custom finishing takes place.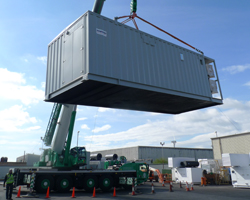 Generator Warehouse & Storage Yard
Keeping over £6m of new generators of varying shape and size in stock takes a lot of space in our warehouse. Industrial shelving is used to stack low to medium power open and silenced units whilst larger units are stored at floor level in the warehouse or storage yard.
Most of our New generator range are easily handled in the warehouse due to standardised design features. A fleet of large and medium sized forked trucks operate in the area, with pallet trucks utilised for smaller items.
with Online viewing for clients,
once a generator has been marked as sold it is taken for our standard 4 hour load test. For generators up to 2000kVA we can load test and stream a live video of the procedures online for client-only viewing.
There is also a triple-glazed client viewing area adjacent to the test area for clients to visit ADE and witness test their generator purchases in person.
Right: Load testing of Cummins generators