UPS Modular Buildings & Housings
Purpose Built UPS Housings
Why do I need an enclosure that is specially designed for my UPS?
Uninterruptable Power Supplies that are suitable for location in the harshest environments require protection from the elements: heat, cold, tropical, and arid. UPS battery arrays are not ideally suited to these conditions and as such, to maintain full battery reliability and life expectancy, it is critical to provide a safe and temperature controlled environment for them to operate.

Most modern battery systems utilise efficient Valve Regulated Batteries (VRL) that do not under normal conditions produce the volumes of explosive hydrogen gas compared to the older lead acid types; however for them to operate most efficiently requires a controlled temperature between 19 to 22oC (may vary due to battery manufacturers).

It must be noted that should the temperature not be close controlled and therefore drop below the 19oC then the battery system shall underperform. Likewise should the temperature rise above the efficiency threshold then the capacity of the batteries shall increase – however the offset to this is a reduced battery life expectancy, if the temperature of the battery exceeds the optimum by 10oC then the lifespan can be reduced by up to 50%.

The original question can now be answered – the reason to package your UPS in a container designed specifically for purpose, is to control and maintain the temprature to maximise both the lifespan and the output of the battery systems; preventing expensive replacement and also failures to the supported system networks.

Our UPS enclosures provide a safe and controlled environment for your UPS systems to operate in all conditions.
Options
Lighting & Small Power
Advanced offer to supply and installation of domestic electrics in all their equipment house to BS 7671. ADE can provide single and three phase distribution systems with MCB protection. Standard or LED Lights, emergency lights, external door or compound
HVAC
Natural, force fan or air conditioning can be supplied depending on the client's requirements. Calculation carried out by ADE can determine which system is right for you. Forced fan ventilation can reduce cooling in the equipment housing by 5 or 10 degrees
Louvres & Dampers
ADE manufacture all type and sizes of louvres to cover the client's air flow of cooling requirements. Louvre designs include: weather louvres, single & double bank acoustic louvres, sand trap louvres, stainless steel for coast applications. Motorised or slam
Frost Protection & Heating
Equipment housing will be fitted with appropriate forms of heating to keep the equipment frost free and ready to work. Fan Heaters, Convector heaters, Wall heaters Tube heaters, storage heaters. Hazardous area heaters for specialist (ATEX) modules
Dehumidifiers
Put very simply, a dehumidifier reduces the level of humidity in the air to leave the environment feeling more comfortable and as a rule healthier. Not just for use in the home, some offices but module equipment housings which house sensitive electrical
Smoke, Fire & Carbon Monoxide Alarm
A fire alarm system has a number of devices working together to detect and warn people through visual and audio appliances when smoke, fire, carbon monoxide or other emergencies are present. These alarms may be activated automatically from
Intruder Alarm
Intruder alarms as used in most prefabricated modules uses reed or micro door activation monitors can be installed. PIR motion protection can be linked to this alarm to give a fully guarded environment. Volt free sensors will raise an audible alarm and/or contact a site control alarm systems or the fire brigade.
Substructures, Platforms & Stairs
Substructure can protect housings built in areas prone or susceptible to flooding they can raise the housing by a few a hundred millimetres to several meters depending on the client needs. Raised substructures create a cable basement can be achieved made without the need break into the ground and create an expensive cable trench.
Stackable Units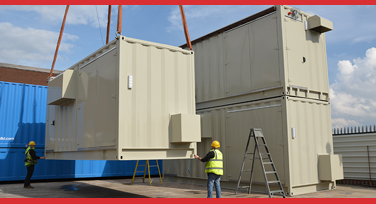 With land being expensive, a double or treble stacked housings or containers are an ideal solution to minimise the amount of land required on site. ADE manufacture ISO and bespoke containers which can utilise corner castings to stack housing simply and with ease.